Who joins and why?
The members of Round Table come from all walks of life and join for a variety of reasons - perhaps as a gateway to relaxation and to enjoyment, or as a way of participating in the local community. It is, of course, an ideal way for those who have moved into a new area to find new friends of a similar age.
What kind of activities are there?
The sky is literally the limit when it comes to the numerous activities that Round Table members find to take part in:
Parachuting, gliding and flying

Abseiling down tall buildings

Driving tanks and go-karts

Sailing, snorkeling and scuba diving
In fact, the only limit is your enthusiasm, so if there's something that you've always wanted to do then Round Table is the ideal chance for you to have a go.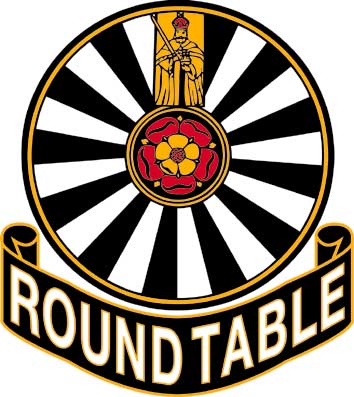 History of Our Club
The first Round Table was formed in Norwich, England in 1927. The founder, Louis Marchesi, was a young member of Norwich Rotary Club who felt a need existed for a club where the young business men of the town could gather on a regular basis. At their meetings they could exchange ideas, learn from the experiences of their colleagues and play a collective part in the civic life of Norwich. Within a year of inception the membership of this Round Table had grown to 85 and interest was being shown in establishing Round Tables elsewhere. From a very early stage it was agreed that Round Table would be a non-religious, non-political club and this has continued to this day.
Hallamshire Round Table was founded on the 9th March 1953 and was awarded it First Charter in 1955, so that means we will be having our 50th Charter in 2005.
The table was formed as an extension to our neighbours Sheffield Riverdale Table No 8
The founding officers were
Terence Clark
Douglas Malthouse
Alan Bowman
James Noble
Hedley Billing
Reginald Chappell
Its initial membership was 31, I am sure some of these founder members are still alive and it would be great to here from them.
Today there are about 1,000 Tables with a membership of around 13,000. Round Table now flourishes in the majority of European countries, throughout Africa, the Middle East, India, Hong Kong, New Zealand and America. In fact Round Table is represented in every continent of the World.


Our Club Officers
Chairman - Paul Harby
Vice Chairman - Tim Cooper
Treasurer - Barry Dinnigan
Secetary - Simon Helliwell
Sports - Mike Braddock
Community - Michael Buffin
Programme - Mark Oliver
Membership - Charles Watson
Media and PR - Clive Rickard
Who's the short balding guy with glasses, Oh it Paul Harby the Chairman of Hallamshire Round Table